Trifield TF2 - Tri-mode meter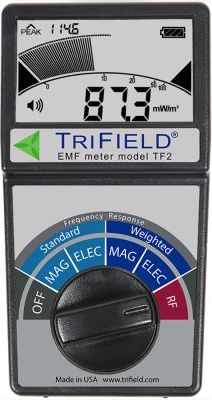 Trifield TF2 ---- $179.90 (Worldwide Free Shipping)
3-Axis Magnetic/1-Axis Electric/1-Axis RF field meter
New improved digital Trifield ® Meter measures all three types of electromagnetic field: AC magnetic field, AC electric field, and radio (including microwaves) now with high sensitivty. The magnetic detector is 3-axis, making the meter easier to use than comparable 1-axis meter.
Now with backlight and sound.

In stock <!–– Out of Stock until July 1 - Pre-orders accepted. ––>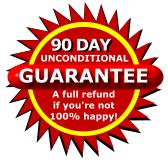 Features:
Detects the three type of electromagnetic pollution: AC magnetic fields, AC electric fields, and radio/microwaves.

AC magnetic fields is 3-axis, allowing quick accurate readings regardless of meter orientation.

Two magnetic and electric modes for weighted and non-weighted measurements.

AC magnetic fields between 0-100mG. This is sufficiently sensitive to detect the background field almost anywhere (except for from civilization), while measuring up to very strong AC fields.

Electric range covers 1-1000 V/m.

Radio/microwave covers 0.001 to 1000 mW/m2 for frequencies between 20MHz - 6GHz.

Operates about 20 hours without backlight or 12 hours with backlight using a replaceable standard 9V battery, has a low battery indicator.

Large digital display.
Applications:
Measures AC (artificial) magnetic fields rapidly. (Does not measure DC of static fields, such as the Earth Field. Click here for other magnetic meters).

Measures AC electric fields rapidly, such as from overhead power lines or improperly grounded equipment. Can locate wiring in walls.

Measures major RF/microwave sources such as leakage from microwave ovens, or the field near cell towers, smart meters, Wi-Fi and similar.
Specifications:
| | | |
| --- | --- | --- |
| AC Magnetic | | 3-axis, true magnitude |
| | Frequency Range | 40 Hz – 100 kHz |
| | Accuracy | ±4% @ 50/60 Hz |
| | Maximum Range | 100.0 milligauss |
| | Resolution | 0.1 milligauss |
| AC Electric | | 1-axis, true magnitude |
| | Frequency Range | 40 Hz – 100 KHz |
| | Accuracy | ±5% @ 50/60 Hz |
| | Maximum Range | 1000 V/m |
| | Resolution | 1 V/m |
| RF/Microwave | | 1-axis |
| | Frequency Range | 20 MHz – 6 GHz |
| | Accuracy | ±20% @ 1 GHz |
| | Maximum Range | 19.999 mW/m2 |
| | Resolution | 0.001 mW/m2 |
| Battery | | 9V alkaline battery with indicator |
| | Battery Life Backlight Off | > 20 hrs |
| | Battery Life Backlight On | > 12 hrs |
Short video