Cornet

ED25G
This meter measures it all: Smart meters, Cell towers, Cordless phones, Wi-Fi rounters and networks, Power lines, Bluetooth devices, Microwave ovens and more...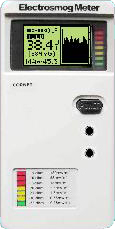 Cornet ED25G ---- $107.90 (free shipping)
Digital LF/RF EMF meter

(See video at the bottom of the page)
Unique, handy tool for your personal Electromagnetic wave exposure detection and level measurement. Highly sensitive and Accurate indicators for your defense on both RF and LF radiation pollutions.
Or upgrade to the new ED75. Sold now for a limitted time at $119.6 instead of $132.9.
Applications:
Mobile phone base station radiation power density safety measurement.
Telecommunications(CW,TDMA,GSM,DECT).
AC power line, Transformer radiation.
RF power measurement for radio transmitters.
Wireless LAN (Wi-Fi) detection, installations.
Smart meters
Spy camera, wireless bug finder.
Cellular/cordless phone radiation safety level.
Microwave oven leakage detection.
Electric and magnetic field measurement.
Personal living environment EMF safety.
Specs:
Dual operation mode: RF power meter mode and LF Gauss meter mode.
Frequency range: 100MHz - 3GHz (RF meter), 50Hz - 10KHz (Gauss meter).
Super Wide dynamic range: 60dB(RF meter).
High sensitivity: –55dBm to 0dBm (RF meter), 1mG - 500 mG (Gauss meter).
Peak power density measurement 1.5uW/m2 to 0.58W/m2 (auto scale).
LCD digital Histogram and bar-graphics for RF level and Gauss level display.
Analog RF(AM,FM) and High speed digital RF(GSM,TDMA,,CDMA, Wi-Fi,WiMAX).
Both AC Magnetic field and RF Electrical field measurement.
Small, compact handheld design, 65mmx130mm.
Battery operated (9V DC).