Cornet ED65


Cell towers | Smart meters | WiFi signal strength meter | Microwave ovens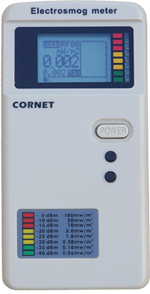 Cornet ED65 ---- $119.90 (Worldwide Free Shipping)
An RF meter for up to 6GHz
Unique, handy tool for your personal Electromagnetic wave exposure detection and level measurement. Highly sensitive and Accurate indicators for your defense on RF radiation pollutions.
Temporary out of stock!
Applications:
Electromagnetic field strength measurement.
Cellular phone base station radiation power Density safety measurement.
Telecommunications(CW,TDMA,GSM,DECT).
RF safety measurement.
RF power measurement for transmitters.
Wireless LAN (Wi-Fi) detection, installations.
Smart meters
Spy camera, wireless bug finder.
Cellular/cordless phone radiation safety level.
Microwave oven leakage detection.
Personal living environment EMF safety.
Specs:
Broad frequency range (100MHz to 6GHz).
Super Wide dynamic range 60dB.
High sensitivity –55dBm to 0 dBm (25mV/m to 14.8V/m).
Peak power density measurement 1.5uW/m2 to 0.58W/m2.
LCD Histogram and bar display to display power density level.
Analog RF(AM,FM) and Digital burst RF(GSM,TDMA,CDMA,DECT, ZigBee, Bluetooth, UWB, WiFi, WiMAX 2.4GHz, 3.6GHz, 5.8GHz).
Accurate, easy to use device, excellent for personal Electrosmog exposure evaluation for living environment, such as close by Mobile phone base station.
Build-in Sensing Antenna.
Small, compact handheld design, 69mmX110mm.
Battery operated (9V DC)