HF Canopy pyramidal for single beds from Voile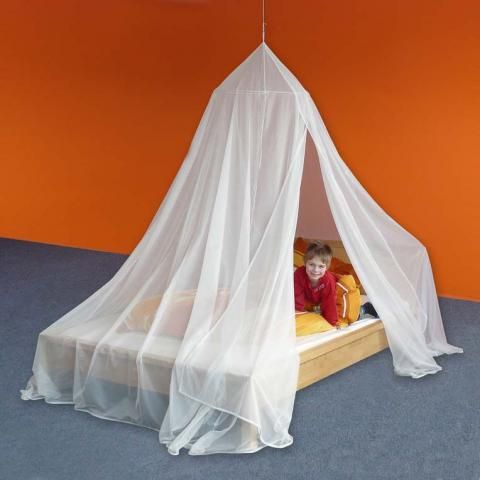 VOILE Pyramidal Canopy ---- $851.00 $808.40 (free shipping)
Uncomplicated and effective!
This paramidal shape canopy is desirable, if you need fast mounting or if you have a roof pitch. Only suitable for single beds up to 100 cm width, since otherwise the slope gets too big. Disadvantage: Offers only limited free space and you have to lift the canopy away for bed-making. Measures: Bottom circumference 1150 cm, height 240 cm. All sizes depending on the fabric with +/- 5 % tolerance! Entry: Through one overlapping opening. Mounting: By one point on the ceiling. Scope of supply: Canopy, mounting accessories, 100 cm ring.
Fabric Characteristics
VOILE is a transparent voile-fabric for the protection against high-frequency (HF) radiation. Typical application as net curtain or to sew a bed canopy.
High transparency at high screening attenuation
Very elegant and slightly glossy
Crease resistant polyester
Textile characteristics: Washable, easy to iron and process
Quality grade: High
Technical data
Attenuation: 35 dB at 1 GHz
Color: White
Raw materials: 83 % polyester, 16 % copper, 1 % silver
Weight: 65 g/m?²
Dimension stability: +/- 1 %
Grounding
Cannot be grounded. Low-frequency electrical fields (LF) must be reduced by additional procedures. We recommend to shield this fields or to switch it off with a demand switch.